FROM 12 TO 16 JANUARY 2016, INNSBRUCK, AUSTRIA WILL HOST THE 7TH INTERNATIONAL CHILDREN ́S WINTER GAMES. MORE THAN 1,000 ATHLETES AND COACHES ARE EXPECTED IN INNSBRUCK TO CELEBRATE WITH 500 VOLUNTEERS, 200 HELPERS FROM ASSOCIATIONS AND CLUBS AS WELL AS THE LOCAL POPULATION. TOGETHER THEY WILL SHARE UNFORGETTABLE MOMENTS.
Good luck to our  Hockey team and figure skaters representing the city of Hamilton.
http://www.thespec.com/sports-story/6225101-commitment-continues-in-innsbruck/
Hockey team, figure skaters off to International Children's Winter Games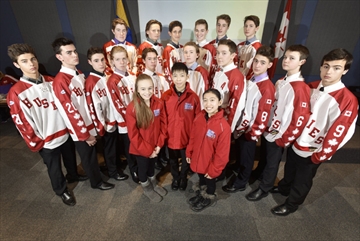 TEAM CANADA
John Rennison,The Hamilton Spectator
Hamilton will be represented by AAA Bantam Boys Huskies hockey team and three figure skaters. Figure skaters front row from left, Brianna Luciani, Alistar Lam and Lauren Wong. Hockey players, second row, from left, Tyson Allison, Jordan Stock, Cullen Ferguson, Riley Ellis, Jack Fowler, Jack McGovern, Noah Arsenault, Lyall Shaw, Michael Grace and Brad Labelle. Back row, from left, Zack Harrington, Sean Golebiowski, Luka VanBerkel, Ryan Mulholland, Liam DelMastro and Jarrett Olbruck.
Hamilton Spectator
One big week barely ends for Alistair Lam before the next big one begins.
After he clears customs at Toronto on Jan. 16, the 14-year-old Westmount Secondary School student will wave goodbye to his travelling partners — two Hamilton Skating Club teammates and the Hamilton Huskies bantam boys AAA hockey team — then board another plane for another competition.
The Huskies, Lam and fellow skaters Lauren Wong and Brianna Luciani are all competing in the International Children's Winter Games in Innsbruck, Austria, next week. And the moment they return, Lam heads for Halifax and his first Canadian Figure Skating Championships, where he will compete in the novice men's division.
"It's scheduled so I have a bit of time for customs and luggage," Lam says of his quick turnaround. "And hopefully, there will be no snow storms."
The International Children's Games are an important part of the Hamilton athletic calendar. Summer games have been held every year since 1968, while Innsbruck — the host of the 1964 and 1976 Winter Olympics — represents only the eighth time the Winter Games have been held.
"It's pretty unreal," says 14-year-old Tyson Allison, the Huskies' assistant captain. "We should just take it all in, it only happens once. These guys are like brothers to me, and it's a lifetime opportunity.
"We have no idea of what the competition is like, but I think that's one of the best parts — not knowing what you're getting into."
Hamilton is committed to the concept of the international sport and cultural experience for 12-to-15-year-old athletes and has sent teams to the Games since 1989. Hamilton was the first non-European city to send a team to the Games, is one of only two Canadian cities (Windsor, 2013) to play host to the Summer Games and, opening the city doors in 1994 and 2000, is the only Canadian municipality to host twice.
"It's for the kids," says Greg Maychak, a city recreation department employee, who is a volunteer member of the International Children's Games board.
"I've had kids come back 15 years later and say it was the most memorable experience in their athletic careers."
Maychak points out that basketball star Shona Thorburn and track prospect Christian Brennan both got their starts in international competition at the Games.
Ed Dunn, the president of International Children's Games Hamilton has been volunteering with the games for 22 years.
"It's meant to create friendships from all around the world," Dunn said at a send-off ceremony Friday. "When you get to the Opening Ceremonies, it brings tears to your eyes."
The city generally funds about one third of the costs, while fundraising takes care of another third, while individuals, including organizers, are responsible for the final third.
"It's kind of like a mini-Olympics," says the HSC's Christy Baltzer, who will coach the skaters. "The idea is for them to have international competition and get to meet other athletes from other countries."
Which is exactly how Lam sees it.
"I'm just looking forward to the experience of competing somewhere I've never been before, with people I don't know," he says of his first European competition. "And to make new friends from other countries. And we get to skate in the Olympic arena."
The Children's Games are sanctioned by the International Olympic Committee and twice have been held in Lausanne, the IOC's home base.
Innsbruck, hosting for the first time, will welcome athletes from 54 cities and 22 countries to a four-day competition in eight sports disciplines.
The 50th Summer Games are on the horizon, at New Taipei, Taiwan, in 2016, and Hamilton has already chosen to participate in boys volleyball, girls basketball and boys and girls swimming.
905-526-3268 | @miltonatthespec